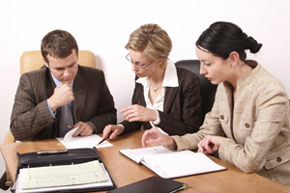 Bankruptcy laws help people and companies who are unable to pay their bills. Bankruptcy is a federal law. There are no bankruptcy cases in State Court. All bankruptcy cases in Massachusetts are filed with the United States Bankruptcy Court for the District of Massachusetts. The goal of a bankruptcy case is to give debtors a Fresh Start by forgiving most of their debts. In those cases where a repayment plan is possible, the goal of bankruptcy is to provide a framework for repaying creditors in an orderly manner over a reasonable period of time and, most importantly, in an amount that the debtor can afford. Bankruptcy begins with the filing of a Bankruptcy Petition with the Clerk of the Bankruptcy Court. Most bankruptcy petitions are filed under Chapter 7, Chapter 11 or Chapter 13. To determine which option is best for you, please contact Mr. Lassman now.
Chapter 7
Available for individuals and businesses, Chapter 7 is usually the most simple and quick form of bankruptcy relief. Most types of debts are forgiven, most types of assets can be retained and there is no repayment plan. A Chapter 7 Trustee will be appointed to oversee your case and you will attend a creditor meeting with the Trustee whose job is to review your case and decide what steps, if any, to take in your case.
Chapter 11
Most often used by companies, but may also be used by individuals with too much debt for Chapter 13. Chapter 11 debtors typically formulate a plan for repayment of some percentage of debt and creditors then vote to accept or reject the Plan. Payments under the plan are made from the debtor's cash flow and the goal is to emerge with reduced debt and a reorganized business.
Chapter 13
Available for individuals and small business owners, Chapter 13 is a three to five year Plan for repayment of some percentage of debt using current income. Unpaid debts are forgiven and most types of assets can be retained. A Chapter 13 Trustee will be appointed to oversee your case and decide if the Plan submitted in the case is acceptable. Once the bankruptcy petition under Chapter 7, 11 or 13 is filed, all creditors listed on the bankruptcy petition receive notice of the case filing and all creditors must immediately stop their collection activity. The notice also advises creditors of the date set for the Meeting of Creditors, which is the date that you must appear with your lawyer and answer questions that the Trustee and your creditors may have. Once the date set for the first meeting of creditors has taken place, creditors typically will then have 30 days to object to any property that you have claimed as exempt, and 60 days to object to the debt forgiveness that you are seeking. In most cases, these dates will pass without objection. In Chapter 7 cases, the Bankruptcy Court will issue an Order discharging you from the dischageable debts listed on your bankruptcy petition and your case will then be closed. In Chapter 11 and 13, a repayment plan is presented to creditors and in those Chapters, creditors have the option of objecting to, and/or voting for or against your repayment plan. In Chapter 13, if there is no objection, the Chapter 13 Trustee will submit an Order to the Bankruptcy Court seeking approval of the repayment plan and you will receive forgiveness of most types of debt that are not paid through your plan when your plan is completed. In Chapter 11, if there is no objection, the Court will typically hold a hearing to determine if the plan meets the requirements of the Bankruptcy Code and, if so, will enter an order confirming the plan.
Disclaimer – This website does not constitute legal advice or the provision of legal services.  The material presented on this website is intended for informational purposes only and does not constitute professional advice.  The use of information on this website does not create an attorney-client relationship with Mr. Lassman.